by Victoria (Grade 6) and Sarah (Grade 5)
This morning in 5/6F we had French. In French we got a sheet and we had to write 4 winter sports on it then ask a bunch of people what sport they liked best. After that we had free time: you could play games, work on your notebooks or work on our daily journals (grade 6).
MATH/LITERACY
After French the grade 5's had math, in math we took up question number 5 that we did a couple days ago, we showed each other different ways to answer the question to get a level 4 answer. Answers below courtesy of Ella, Olivia and Skyler. [EDITOR: This fraction work was a continuation of the last two days work and last night's revisions.]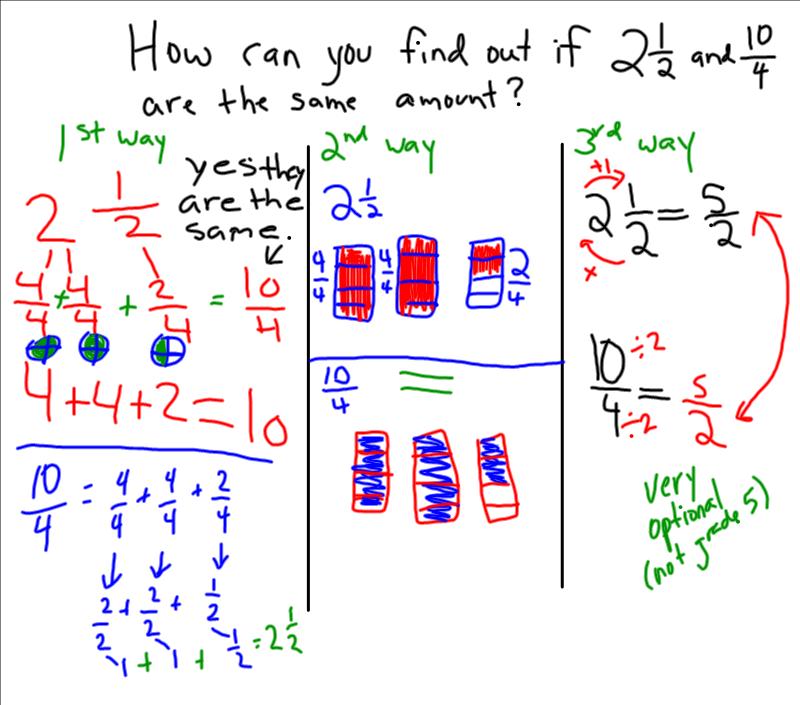 Meanwhile the grade 6's worked on literacy/social studies.Grade 6's worked on writing  two scripts: one for an interview where one student is Ashooging, the Beothuk boy and one script for an interview where the other student is Bjarni, the Viking boy. [EDITOR: To be interviewed in modern times, we are totally thinking of incorporating a Time Machine 🙂 ]
LITERACY
After break we went to the computer lab. In the computer lab we finished:
an Open Response question (The grade 6's had to finish their paragraph on why Ashooging gave Bjarni a gift. The grade 5's had to write how the story "How We Built the Trojan Horse" would change if it was told by the trojans point of view.)
a previous writing assignment: our pros and cons of technology in the classroom on google docs, then post it on the HWDSB commons.
After all that we worked on our scripts for literacy/social studies/drama. The grade 5's researched what the Trojans and Spartans would wear (because we can wear costumes for our interviews when we film it) and the grade 6's researched what Ashooging and Bjarni would wear.
Then we had second break (they sold popcorn) 🙂
MATH/LITERACY
After break the grade 5's had a exit card for fractions, and when they were finished that they worked on their point of view sheets.  [EDITOR: Learned this week that there is 1st person, 2nd person and three kinds of 3rd person — Objective, Limited, Omniscient. Thank you to Stephanie ("Mrs. M"), a teacher who writes the blog Teaching in Room 6 for posting such great ideas and templates for Point of View!]
While the grade 5's did that the grade 6's did math. Answers below courtesy of Katelynn, Ms Fawcett and Madeline. The 6's had a lesson and took up question 11 from the text book — goal: showing our thinking in more than one way. Then they wrote down a question for independent work — exit card tomorrow! 🙂
After that both grades had D.P.A outside:) [EDITOR: Great packing snow! We continued building what we started during break, and we used the painted target on the school wall for throwing practice, supervised by me. The creativity was amazing! Below, find a "house" with bench, a maple tree being "tapped for maple syrup", a snowball on its way to unknown great creativity…and lastly, a duck crafted by Olivia — part of a menagerie of several animals Olivia created]